we are pleased to announce the Retrospective exhibition by Ewerdt Hilgemann at the Kröller-Müller Museum in Otterlo, NL from March 14th - August 23, 2020 spanning > 60 years of art production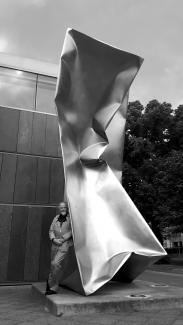 Ewerdt Hilgemann, Work in Progress (1959-2020)
Kröller-Müller Museum, March 14 – August 23
After acquiring 'Imploded Cube (KMM)' in 2014, Kröller-Müller Museum decided on a range of works from the 1960s and 1970s for their collection in 2019.
These works will be on show at the Museum in an overview of 4 different periods, i.e. Wall Pieces from the 1960s, Relief and Cube Structures from the 1970s, Marble Sculptures and Events from the 1980s and his most recent Stainless Steel Sculptures, the work he is most known by.
From early on, Ewerdt Hilgemann's work is determined by elementary geometrical forms, such as circle, square and cube.
In the 1960s he makes wall pieces, serial installations and sculptures in different materials, mostly wood and plastics.
In the 1980s he turns away from 'total control', opening possibilities for 'chance', creating a stage for nature as a co-creator.  
However, all works are carefully premeditated before he offers them to the experiment.  Every time he is excitedly waiting for the outcome, which he then happily accepts and consequently, takes as a starting point for his next pieces.
On the occasion, a new book is published:
EH - Ewerdt Hilgemann 2020, available through bookshops 
(ISBN 978-90-73985-10-0) and Art Affairs: www.artaffairs.net
and Hilgemann.Art: www.hilgemann.art