Elementary research has from the beginning characterized Hilgemann's work. After experiments in the sixties with subtle, white wooden wall pieces, catching light, he turned into a conceptual sculptor, using natural stone, as well as steel in series of works. In 1980 he introduced randomness and natural powers beyond his control into his working method. Much to his surprise, he found that also the unpredictable is subject to natural laws, to which he soon could anticipate. Is there anything softer than air, more vital for human beings, breathing in and out? Yet, this same air is capable of pressing, folding large steel containers, once the air is being evacuated. That force has become Hilgemann's tool.
1938
geboren in Witten/ Ruhr
1958-59
Universität Münster
1959-61
Werkkunstschule  und Universität des Saarlandes
1963
Künstlersiedlung Asterstein, Koblenz
1964-67
Stipendien und Preise: Aldegrever Gesellschaft, Münster, Fritz Berg Stiftung, Hagen, Stadt Gelsenkirchen
1967-70
Gelsenkirchen, u. a. Künstlersiedlung Halfmannshof
1970-84
Gorinchem/ Niederlande, u. a. Kunstcentrum Badhuis 
1974-86
Mitglied der internationalen Künstlergruppe "Arbeitskreis"
1975-84
Atelier und teilweise Aufenthalt in Carrara/ Italien
1977-98
Dozent an der Kunstakademie Rotterdam
1981-82
Studienreise durch Europa
1984
Umzug nach Amsterdam
1998
Ausstellungen und regelmäßiger Aufenthalt in Los Angeles
lebt und arbeitet in Amsterdam
Selected Public Art Projects/ Collections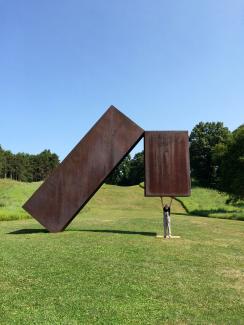 2018 
Sculpture Triennial Bad Ragaz, Switzerland and Vaduz, Liechtenstein  Verbeke Foundation, Kemzeke, Belgium
Studiogalerie der Goethe-Universität Frankfurt 1964-68
Kansas City, Kansas City Art Institute
2017
Artzuid Sculpture Route Amsterdam (Catalogue)
Blickachsen Sculpture Bad Homburg and Goethe Campus Frankfurt a. Main (Catalogue)
Daimler Contemporary, Serielle Formationen, Berlin (Catalogue)
2016
Mirror Tree, Private Collection, NL
EUREF Campus Berlin, four segments of a cube
2015
Havana Biennal, City of Havana, Cuba
Habakuk, Chicago University Campus, USA 
Pyramid, 12.century Castle Ravensteyn, NL
2014
Imploded Cube, Kunsthalle Bremen, Germany
Park Ave Sculpture Project NYC (Catalogue)
Imploded Cube, Kröller Müller Museum Otterlo, NL
2013
Flottman Hallen, Zentrum für Kunst und Kultur, Herne, Germany 
Anninga Hof, Sculpture Park, Zwolle, NL 
Cube Structures, Jo& Marlies Eyck Collection, Bonnefanten Museum, Maastricht
2011
Three Graces, Messer Group, Bad Soden, Germany
Imploded Column (Flamingo), Elgiz Museum , Istanbul, Turkey
2010
Imploded Column, New Pacific, Berverly Hills, California
2006
Quint, Hervormd Lyceum, Amsterdam, NL
2005
Double-Up, Aegon Collection, Den Hague, NL
2004
Panta Rhei, City of Hünfeld
2003
Wooden relief, Dordrechts Museum, NL
Imploded Cube, City of Gorinchem
2001
Wall-Sculpture, Ruppert Collection, Museum im Kunstspeicher, Würzburg
2000
Cerberus, Investment Bank Berlin, Berlin
1996
Imploded Cube, Il-San Lake Sculpture Park, Ko-Yang City, South Korea
1995
Sárospatak Implosion, City of Sárospatak, Hungary
1993
Raumkonstruktion, Museum für Konkrete Kunst, Ingolstadt
1992
Delft Implosion, Delft University, NL 
1991
Water Stones, City of Ingolstadt, Germany 
1991
Homage to Brancusi, Galati, Romania 
1990
Reflection, City of Nivala, Finland 
1990
Plus-Minus co-production with Jan van Munster, City of Gorinchem, NL  
1989
Tension, City of Rotterdam, NL 
1987
Natura Artis Magistra, University Nymwegen, NL
Imploded Cube, City of Elblag, Poland
Imploded Pyramid, City of Kleinsassen, Germany
1985
Exploded Sphere, City of Dordrecht, NL
Imaginary Landscape, IWO, Amsterdam
Implosion, Museum Lenbachhaus, Munich, Germany
1983
Finnish Landscape, City of Kemi, Finland